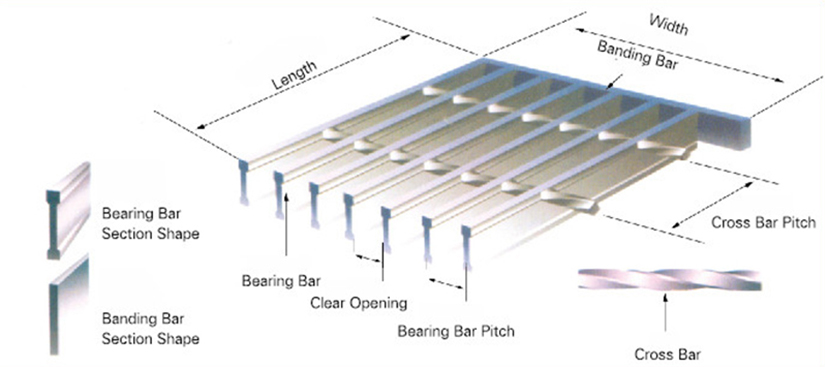 Xinboyuan steel grating is hot dip galvanized processingoffers the following advantages: saving materialssaving investmenteasy installationdurable in uselight structureno accumulation of dirtgood performance of ventilationheat dissipationanti-acid and alkali corrosion.
It exported to Australia South-east Asia Middle East Japan South-Korea Trinidad Singapore New Zealand and so on.

Components of steel grating:
1. Material: Low carbon steel / Stainless steel
2. Grade: Q235Q345 US: A36 UK: 43A
3. Standard: CN:YB/T4001-1998US:ANSI/NAAMMUK:BS4592-1987 AUS1657-1988JJS
4. Certification: CE GOST ISO9001 ISO14001 HSE
5. Bearing bar size: 20X5 25X3 25X4 25X5 30X3 30X4 30X5 32X3 32X5 40X550X4...75X8 100X8mm etc
6. Bearing bar pitch: 20253032.534.34050606265mm
7. Bearing bar type: Plain Serrated (tooth-like) I bar (I section) Serrated-I
8. Cross bar size: 40 50 60 65 76 100 101.6 120 130mm etc.
9. Cross bar pitch: 40 50 60 65 76 100 101.6 120 130mm etc.
10. Panel size: 3x20ft3x24ft3x30ft5800x10006096x10007315x1000 as request
11. Surface treatment: Untreated hot DIP galvanized cold DIP galvanized painted powder coated pickling electrolytic polishing or as customers' requirement.
12. Galvanization Standard: CN: GB/T13912 US: ASTM (A123) UK: BS729
13. Color: Silver/Black
14. Application: petroleum and chemical portpowertransportation papermakingmedicine steel and iron food municipality real estate manufacturing etc.